Track Everything, Everywhere with Up To Date Status.
In one single interface get quickly your
QR code
, print it & stick it on any of your resource.
Flash it with your smartphone
to get instantly its
geolocation
and to update its
status
. You get now more control in
managing your resource and assets
on
transparency
,
traceability
, and
productivity
. MapYourTag has been developed to assist Small and Medium-sized Enterprises and others who need to track, manage and get traceability of their resource in ease at the lowest cost. MapYourTag is SaaS which can be used from any regular web browser. MapYourTag is made for the following activities:
Shipping, Logistics & Supply Chain Management
Maintenance, Quality Control, Inspection, Inventory
Cleaning and Maintaining of Home, Office, Hospital,...
..
Some examples of resource that MapYourTag tracks: engine, office, medical supplies, weighing machine, people, animal, spare parts, poster, rental of goods,...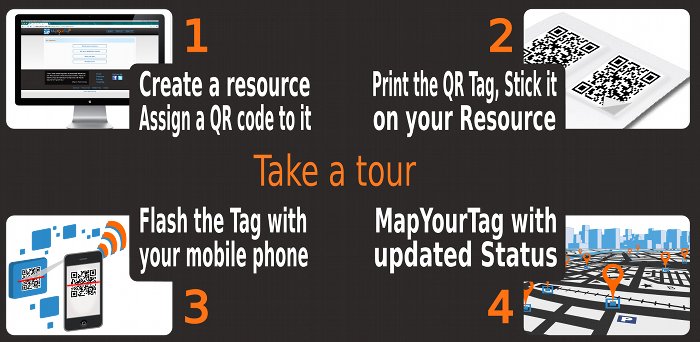 Track and manage your assets with geolocation thanks to MapYourTag